1.Non woven face mask is made of spunbonded non woven fabric and meltblown non woven fabric

2.It can be used in hosipital,or industrial eara.,protect face from the dust,water and bacteria.
3 .Conforms to international standard:EN149:2001 FFP1 FFP2 CE0194 N95
4. Low breathing resistance with high filtration efficiency.
5. With multi-layered non-poisonous, non-allergic, non-stimulating materials.
6. Adjustable contoured aluminum nosepiece and a soft inner foam nose cushion help to ensure proper fit and increase worker comfort.
7. The high-efficient and strong electrostatic filtering materials effectively filter the solid particle dust, and prevent the oil liquid gas.
8. Free of maintenance, hygienic, clean, environment friendly.
Disposable face mask, made of good quality non-woven fiber fabric, 3-layer, comfortable to wear, provides you effective protection.


Made of non-woven fiber fabric, 3-layer, soft and breathable.
With elastic ear-loop, soft and comfortable to wear.
Blocking dust, air pollution and droplet.
One size fits most people.
One pack contains 50 pcs.
Face Mask Know-How
一、Structure of Face Mask
Disposable face masks are designed in three-ply structure.
The outer ply is made by non-woven fabric to catch dusts and ashes, reducing hazardous substances. The outer ply is moderately thick and flexible.
The middle ply is made up from a melt-down BFE/PFE/VFE material that acts as filter that stops microbes and particulate substances.
The inner ply is made by ultrafine fiber which is skin friendly and dam proof.
二、Working Mechanism of Face Mask
Instead of a sifter, modern face masks act as an active absorber using BFE, a mainstream material that features electric field inside. It is able to absorb particles passing by. This absorbent particularity allows it to maintain similar barrier property for larger or smaller particles. More so, when particulate matters reduce to smaller one, the filter capacity of modern facial masks increases.
三、More About Face Mask
Higher tightness and more plies do not mean higher filter efficiency. According to actual measurements, simply adding more plies contribute little to the filter efficiency of face masks. Instead of filter efficiency, overlay bacterial filtration materials of higher thickness has more to do with clogging capacity, i.e., the overall lifespan of a face mask. However, more plies do increase respiratory resistance.
四、How to Distinguish Genuine Face Mask from False
1、Water Tightness Test. Pulling water into the inner layer of a face mask and observing if or not the water leaks. Ideally the outer ply remains dry.
2、Filter Material Test. Ideally there should be no black smoke or flame when ignited.
五、How to Wear a Face Mask
1、The colored side of a mask is usually the front side. Place a loop around each ear and cover your mouth and nose with the face mask.
2、Mold to the shape of your nose the side of a mask that has a stiff bendable edge so as to seal your nose from contaminated air.
3、Pull the bottom of the mask over your mouth and chin to display a 3D breathing space.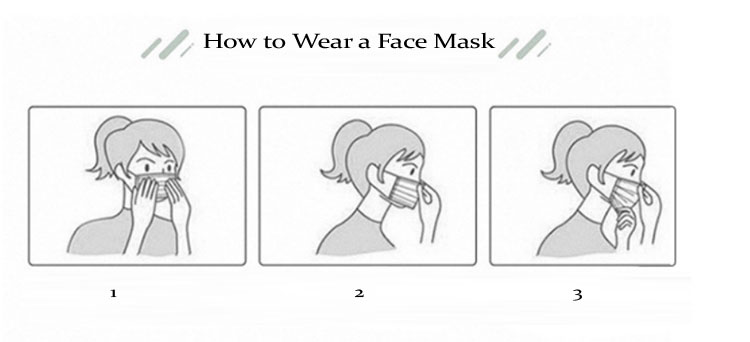 Notes:
1. For those who are alergic to non-fibric material or have cardio-plumonary abnormality, please use with caution.
2. This product cannot be used to replace gas mask.
3. This product cannot be washed. Please make sure to use it within expiry date.
4. This product shall be kept in dry and ventilated area. Keep away from fire and inflammable